Your live stream URL is a unique web address, which carries your live audio stream every time you broadcast (For the technically minded, it's a 128kbps MP3 stream, Icecast compatible, and will work with almost all browsers and listening clients). It's a flagship Mixlr Pro feature which gives you total control over creating a unique listening experience, and deciding where your live audio can be heard online.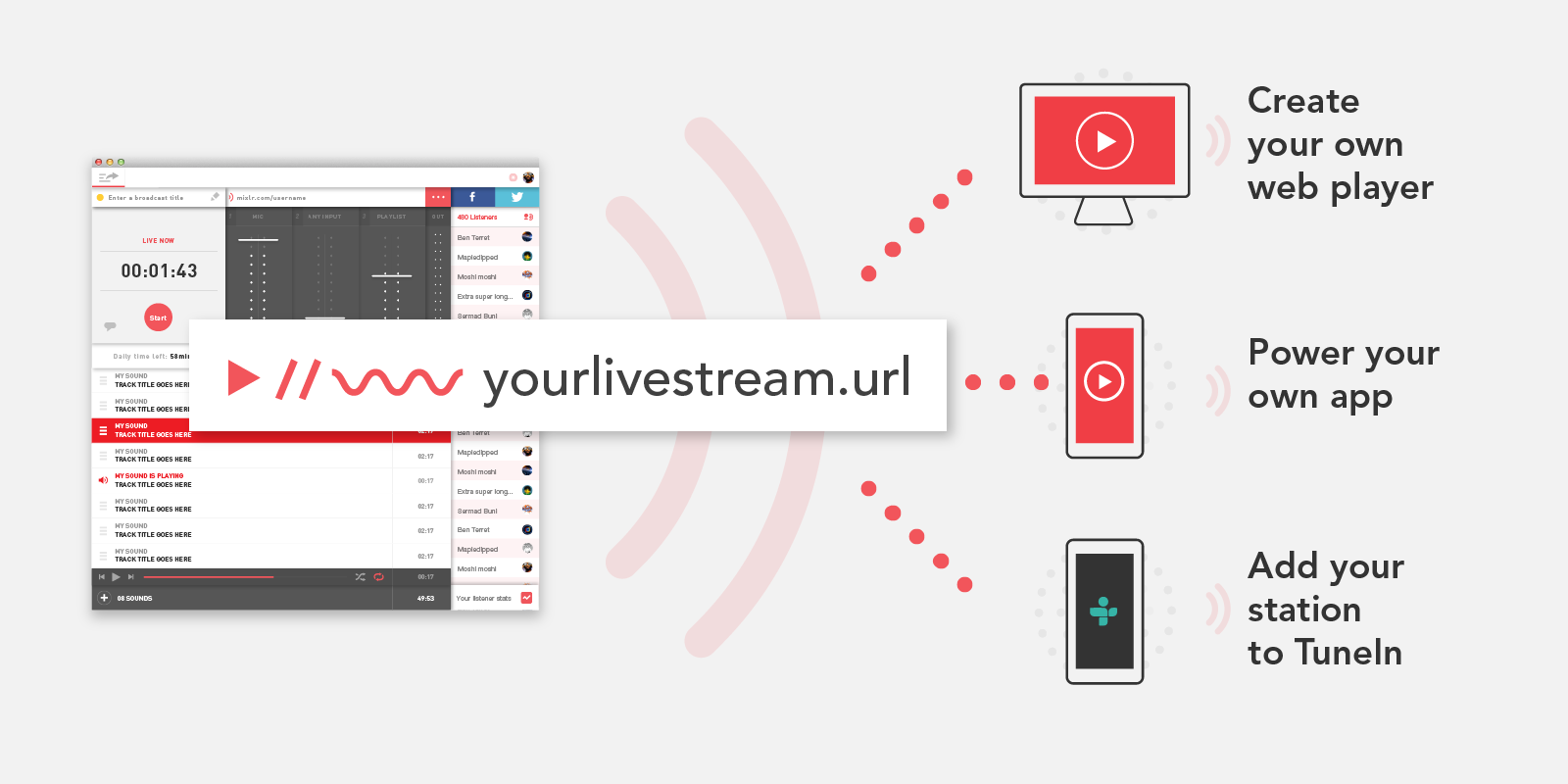 You'll find your live stream URL in your user settings. Although this humble URL might not look like much, it's essential if you want to go away and build your own listening experience. If you're already a Pro user, the next time you go live, try copying and pasting your live stream URL to your browser to see it working in its most basic form.
Add your live stream to your own website.
The advantage of creating a custom player is that you can change how it looks and behaves to fit perfectly with your own brand identity. Apply your own design assets, add more advanced controls, and choose to play automatically when a user visits your website. When you build your own player, it's all totally up to you.
Add your live stream to your own mobile app.
For a fully tailored listening experience, build your own app powered by your Mixlr live stream URL. This unlocks unlimited potential to build richer interactions with your audience, gather your listener's contact details, add your own chat, Twitter feed or Facebook timeline, and take control of who tunes in.
Even add your live stream to third party services like TuneIn.
Grow your listener audience by submitting your station to TuneIn. It's as easy as copying and pasting your live stream URL to the TuneIn directory. Once approved, up to 50 million monthly listeners will have access to your stream. Your live stream URL is compatible with many third-party radio directories, some with millions of users –  all potential new listeners for your live audio!
Now you know a bit more about what's possible with a live stream URL, why not read more about all the other advanced features available with Mixlr Pro.