We rolled out more updates to Channels this week: the option to choose event images with ease! Read on for more:
Your channel's live audio events, upcoming event schedule, and recordings all benefit from having images — event images play a major part in making your channel look undeniably yours. To help, we built a new feature that makes adding event images an effortless task.
(Not yet a creator on Mixlr? Try Mixlr for free)
What's new?
An image picker that comes with a preview of three options for easy choosing:
If you have channel artwork, this image becomes your default event image
Theme artwork is an image generated from your channel's theme colors
As before, you always have the option to upload a custom image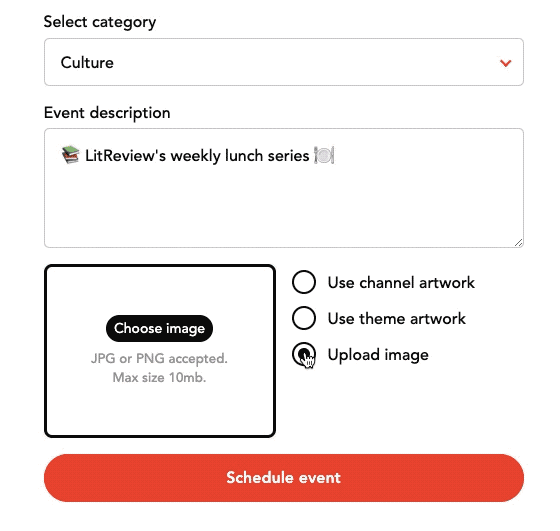 How does it work?
Schedule a new event or start one immediately, and you'll see an image picker with three options
Click through your choices to preview your channel's event page with the selected artwork
Be sure to customize your channel's appearance so you can choose your preferred channel or theme artwork
This is just one of many updates coming to Channels over the coming months! We're real excited to share more with you 🙌
Questions about your channel? Visit our FAQs or contact us directly — we'd love to help!