Channels represents the most significant update to Mixlr in years, and we'd hate it if you missed out on these huge improvements! If you haven't started using your channel yet, read on for six reasons why you should:
To get a head start on all these improvements, set up your channel now. Have a channel already? Read on to see the newest updates ✨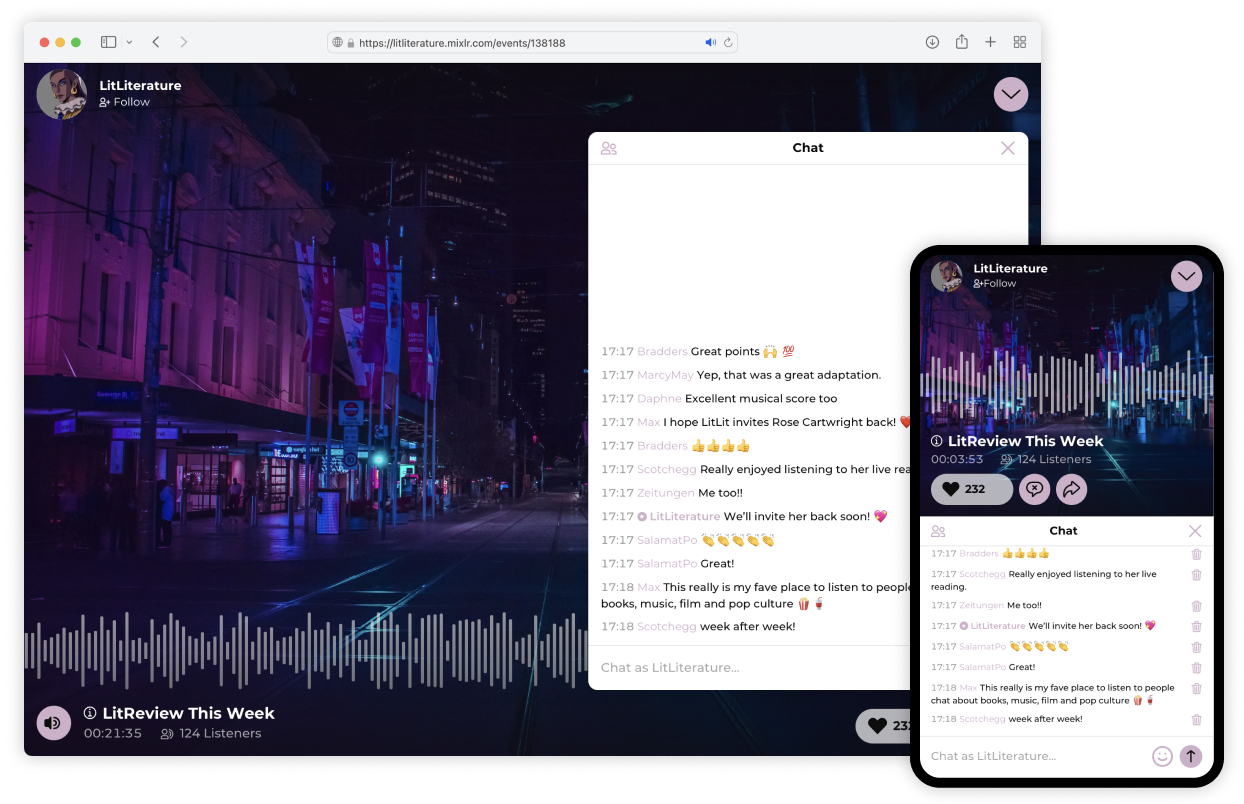 1. It's a customizable no-code website made for audio
We built a channel for every creator on Mixlr. It is a beautiful and responsive website that is ready for your audio to take center stage.
Because your channel is where people can find all your audio, it is only right that you decide how it looks. Choose your own URL (a customized link to your channel), your own theme color, and use images to make your audio unashamedly yours.
Your channel is powered by Mixlr, ensuring listeners will have the same great audio and web experience, whether they are visiting from their computers or a mobile browser (and very soon, a brand new mobile listener app!).
So, you can go ahead and customize your channel to your liking, while we continue to handle your audio with care.
2. Your recordings stand out
On the old Livepage, your recordings were hard to find. With Channels, your recordings are just as important as your live audio.
This time, you can add images to each recording to make your audio archive really stand out. You worked hard on your audio content, so you should showcase your hard work.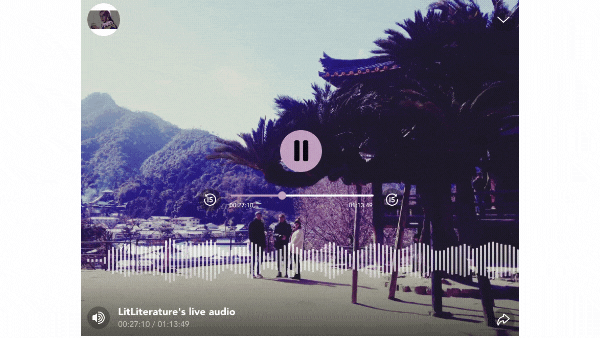 Listeners will love it too. When they click the play button, a new state-of-the-art player creates an immersive full screen experience featuring your chosen image.
3. New streaming page for each new live event
Every live event is a brand-new page on your channel.
Think of it as an event venue freshened up for the next live act. Unlike a physical event space, however, your live stream gets its own unique page address, which is automatically generated when scheduling an event. As a result, events promotion is made easier now that a single link lands the listener directly in all the action.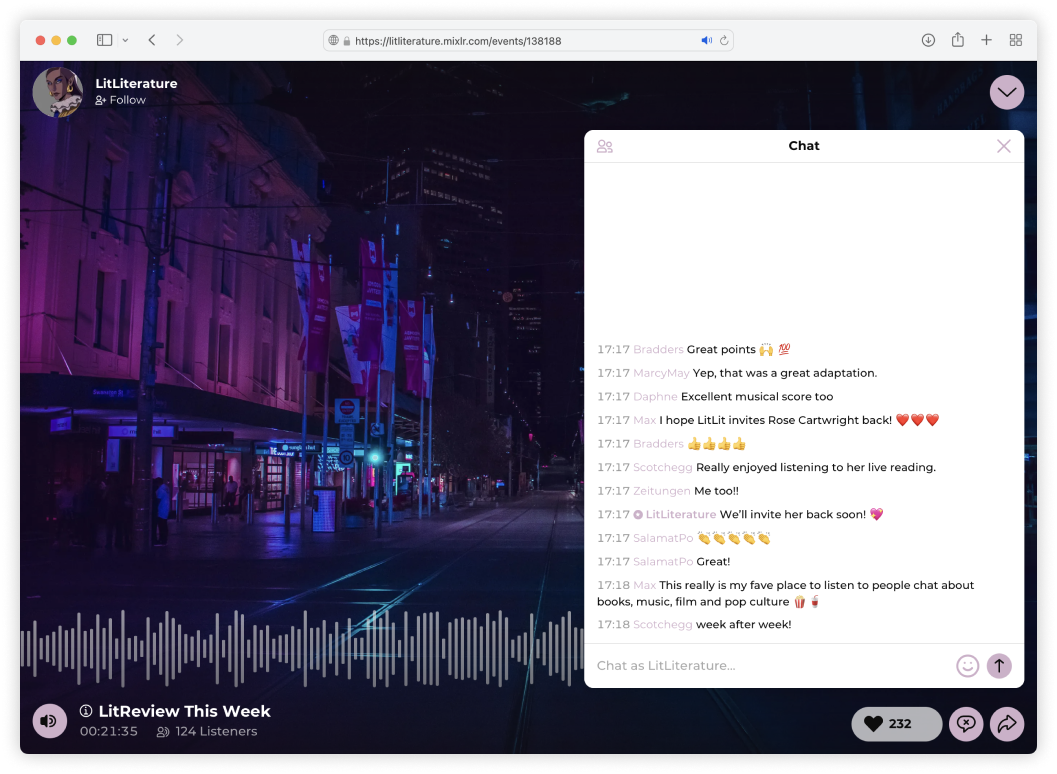 Your channel's built-in player works the same way for recordings as it does with live audio: immersive screen experience with audio visualization. This time, with chat!
5. Autoplay for back-to-back events
Have back-to-back events? No problem. When you finish one live event and start the next, your listeners will be transported automatically to the new event page. Like magic.
4. Improved chat with emojis 🙌 ❤️
It's now possible for people to chat using a mobile web browser while listening to your live audio. (This wasn't possible with the Livepage)
And, don't forget to say hello to listeners in the chat – as creator, your name is highlighted so those checking out the event chat will know it's your channel.
We also added an emoji picker to the chat feature, making it easier for everyone to express their love for your audio.
6. The same live experience as your listeners
Feel even more connected to your live audience now that you can experience your channel within your Creators app. The latest versions of the Mixlr for Creators apps provide you with the same event view as your channel whenever you're live on-air.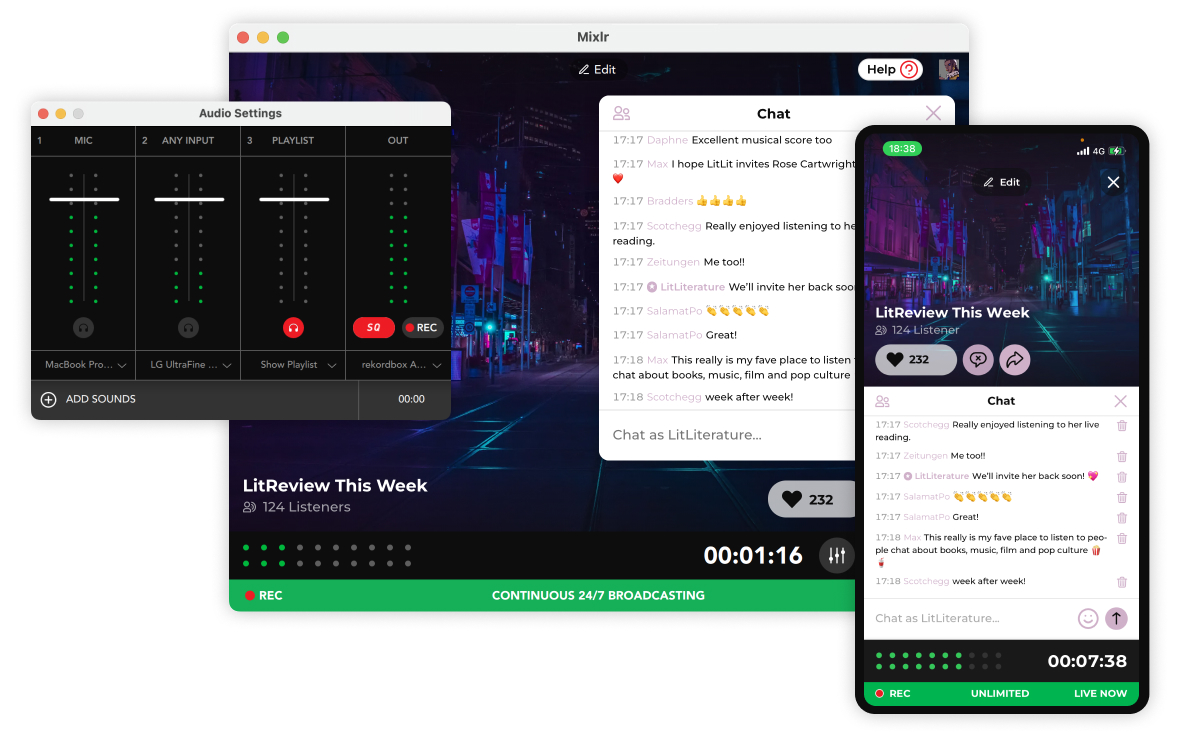 Old versions of the broadcast apps showed a completely different interface from your Livepage. It created a disjointed experience separating you from your audience.
But now, with the latest updates, you can feel more in tune with your listeners while you broadcast.
---
Your audio deserves its own channel. If you're ready to replace your livepage for a channel on Mixlr, you can easily switch to Channels now.
The team are also happy to guide you, so please reach out or check out the FAQs for more.