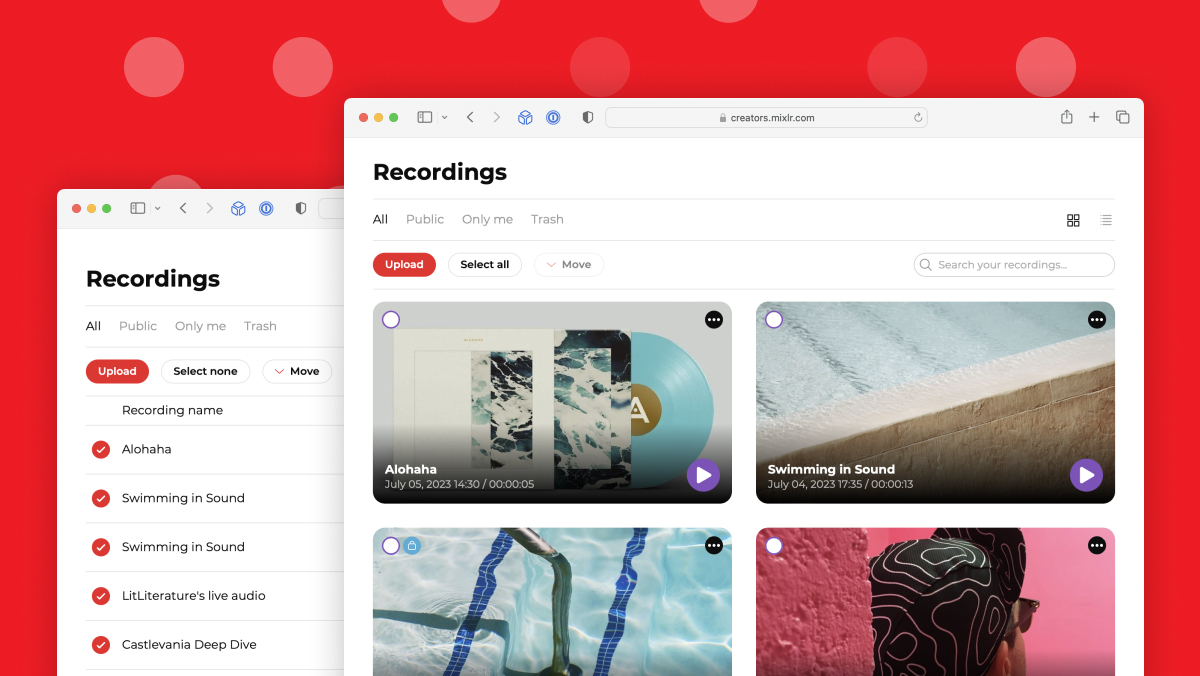 We're thrilled to introduce some exciting updates to how you manage your audio recordings on Mixlr. Expanding upon our recent addition of recording uploads, we've undertaken a complete overhaul of the Recordings management area. This overhaul streamlines processes, grants you greater control, and amplifies visibility, all aimed at making managing your audio content more seamless than ever.
What's new?
🔍 Advanced Search: Finding specific recordings is now a breeze with our improved search feature. No more endless scrolling – simply search and discover.
📌 Grid & List Views: Enjoy flexibility with how you view your recordings. Choose between grid and list views for a setup that suits your preference.
🔐 Visibility Tags: Keep track of your recordings' privacy settings with easy-to-spot labels for public and private recordings.
📂 Bulk Actions: Simplify your organization efforts. Move multiple recordings between 'Public', 'Only Me', and 'Trash' with just a few clicks.
🗑️ New Trash Area: Accidentally deleted something important? Our Trash Area holds onto recordings for 2 weeks before they're gone for good.
👉 Check out the changes in your Creators space
Making Professional Audio Tools Accessible
Our aim has always been to create professional audio tools that are user-friendly. Whether you're an audio pro or just getting started, these changes reflect our commitment to providing tools that anyone can use effectively.
What do you think of the new Recordings area? As ever would love to hear your feedback – Contact us to let us know what you think.