In the next few weeks, we'll be inviting creators to Channels: a new audio webpage on Mixlr, made especially for audio makers like you. We wanted to offer up a sneak peek before it is widely rolled out as it's a monumental change to what your audience sees when they interact with your audio content.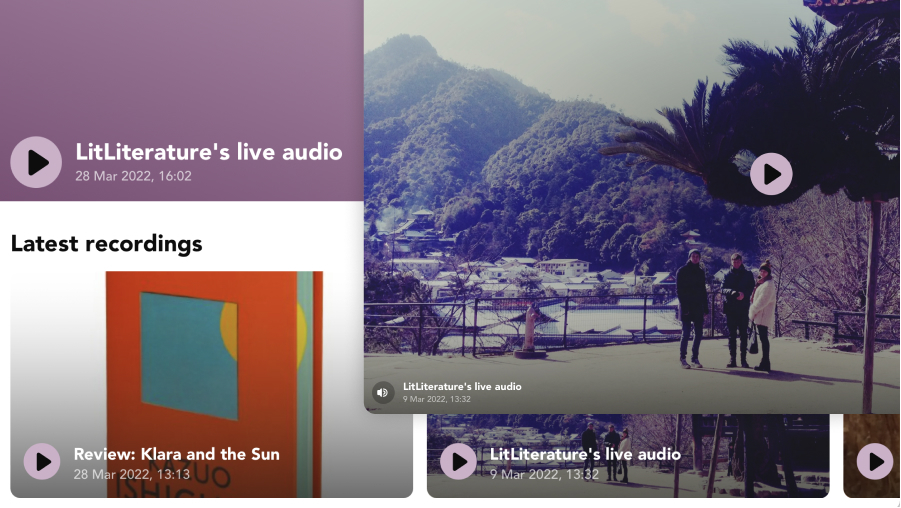 What is it?
As a quick refresher of what's coming, your channel is where visitors can:
Listen to your live stream events, each with a unique URL
Re-play recordings of past live audio streams
See your upcoming schedule of events
Chat with other listeners
Learn more about you!
Channels is ideal for creators without websites, and equally useful for those with a strong web presence. In short, it will replace the Livepage as your own webpage hosted on Mixlr.
Not yet a creator on Mixlr? Try it out now!
You're likely familiar with the sturdy Livepage. It's your easy, no-fuss page where visitors can listen and chat. But it was time for a refresh.
We knew we wanted to offer audio creators their own website that's similarly readymade yet inherently different. So we went beyond updating the Livepage and built something new. From scratch.
A brand-new live streaming and showcase page for audio creators
With Channels, every live audio stream has its own unique URL. Any shared links to your live event will land your visitor directly in the midst of all the action. Your recordings also take a more equal footing within Channels. A selection of your most recently published recordings sit on your channel's front page. And thanks to a built-in player, visitors can navigate from listening to your recording to your live stream all while staying put on your channel.
Unlike the Livepage, you can really make your channel your own with customization settings. You have your own subdomain, a placement for a brand logo, a background of your choosing, and a selection of color themes to match your style. You also have plenty more space to describe what your channel's all about.
But, it's your audio that truly brings your channel to life. Your channel will be populated with live audio streams, scheduled events, and any recordings you have chosen to make publicly accessible. For your audience, it's a dream: easy access to all your audio content. They only really need to memorize — or bookmark! — your channel URL to find your work. And, don't worry, once you've created your channel, your old Livepage will point listeners in the right direction.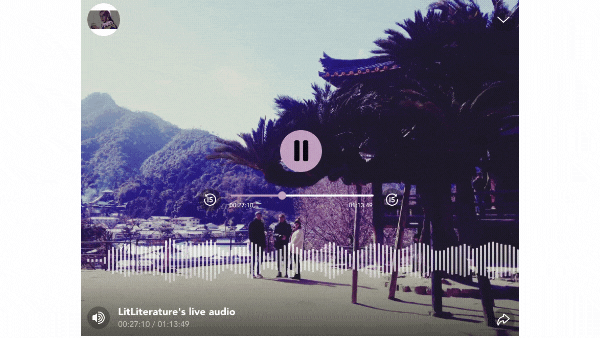 When you're live, it will be the first thing that visitors to your channel will see. It's the main event after all. Clicking through the "live now" header will lead them to your live stream page, where sound waves move to your audio and visitors logged into Mixlr can chat and send hearts your way.
If you're not prone to adding event artwork, you might want to. Event images will bring personal touches to your channel, either as part of a live streaming event, as a roster of upcoming scheduled events, or as a collection of recent recordings.
No event artwork? No problem, we've got your back. Whenever you go live, a readymade event wallpaper — based on your channel theme color — will act as the backdrop to your audio.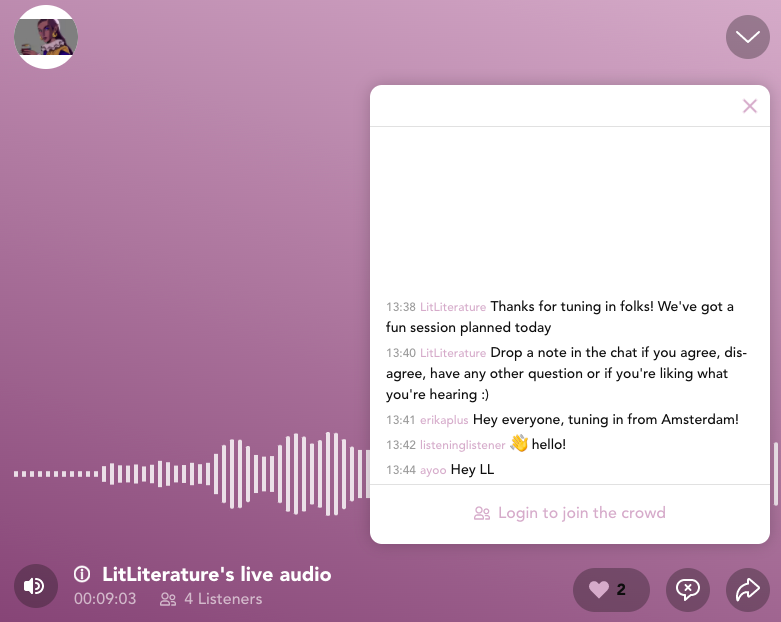 On the face of it, this new release is a visual refresh to how your audio is presented to an audience. Beneath the waveforms, the customizations, and personalized subdomains, rest assured we've built a sturdy product that will continue to handle your audio with care.