We recently rolled out a brand-new live player. It maintains the same embeddable ease as our previous player (some things will never change), but comes with a host of improvements for you. Read on for more:

Expand your audio content's reach by embedding this custom player on your existing sites
What's new?
When you're live, your live stream and event image is featured on the player
If you're off-air, your next scheduled event or your channel's theme is displayed
You now have two sizes to choose from: wide or square
Audio visuals are displayed on the player when a listener hits play
The new player is an extension of your channel on Mixlr. Why not expand your audio content's reach by embedding this custom player on your existing sites? If you need convincing, check out examples below of what your audio player could look like in the different event states.
A live event playing will display audio visuals:

If you're off-air, the next scheduled event is promoted on the embedded player:

Don't have a scheduled event? The player is styled after your channel's theme:

You can also choose between a square or wide size: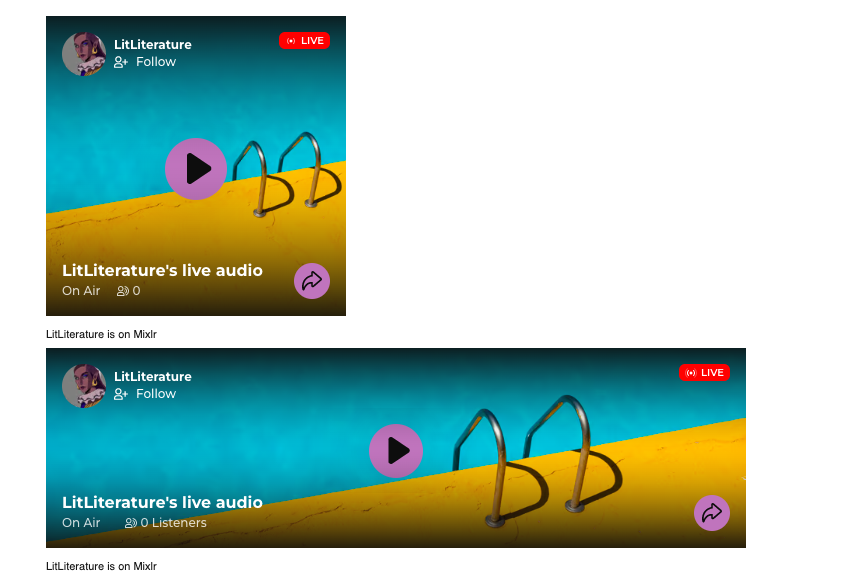 What stays the same
Always ad-free — we'll never include ads in your player (it's your player, your content)
Copy and paste simplicity
The same stable audio stream is broadcast on your channel, the listener apps and your player
How does it work?
Head to your channel settings and select Live Player
Choose between a wide or square size
Copy and paste the widget code onto your site's HTML editor
If you have a WordPress site, you should be able to see a preview of your new player in your HTML editor before publishing. For other site hosts, check out this help article for more details. And if you require support, please get in touch — we'd love to help!

This new release sets the foundation for other exciting updates to come. (Hint: elements that are linked to your channel!) With Channels, you have more choices, more control over your content and branding, which now extends to your custom audio player.
Not yet a creator on Mixlr?
Try it for free now!