On Monday, November 28 we are saying goodbye to the livepage and rolling out Channels to every audio creator without a channel. You might be curious about why we're doing this.
Your audio is always front and center with Channels.
More flexibility and customization
We have been told that the livepage has served you well but it ultimately lacks customization or flexibility. Switching to Channels, however, will deliver what you loved most about the livepage, while also being packed with more customization and more features. The best part: You decide how to use your channel.
Do you require a supporting channel for live audio only? Want to showcase an archive of recordings? How about a website for upcoming events, which transforms into live streams? You can pick and choose which features to use and how often you want to use them. It's your channel, so you're in control.
A strong foundation for further improvements
The livepage is not built to support the updates we have planned for your Creators apps (desktop and mobile), the new embeddable live player, a more comprehensive analytics offering, brand-new mobile Listener apps — to name a few things already in the works. For this reason, it is necessary to move away from the livepage. By contrast, Channels provides a solid foundation for all these product improvements.
Make a smooth transition from livepage to Channels
We understand. Visually, Channels is a huge leap! To help make your transition from livepage to channel as smooth as possible, we've listed some best practice tips to apply before Channels is widely rolled out.
Read on for more.
---
1. Make your channel link memorable for listeners
When you set up your channel you'll be prompted to add a channel name and channel link. The process is pretty simple:
Log in to your Creators account
Fill in the form (as seen below) with a channel name and link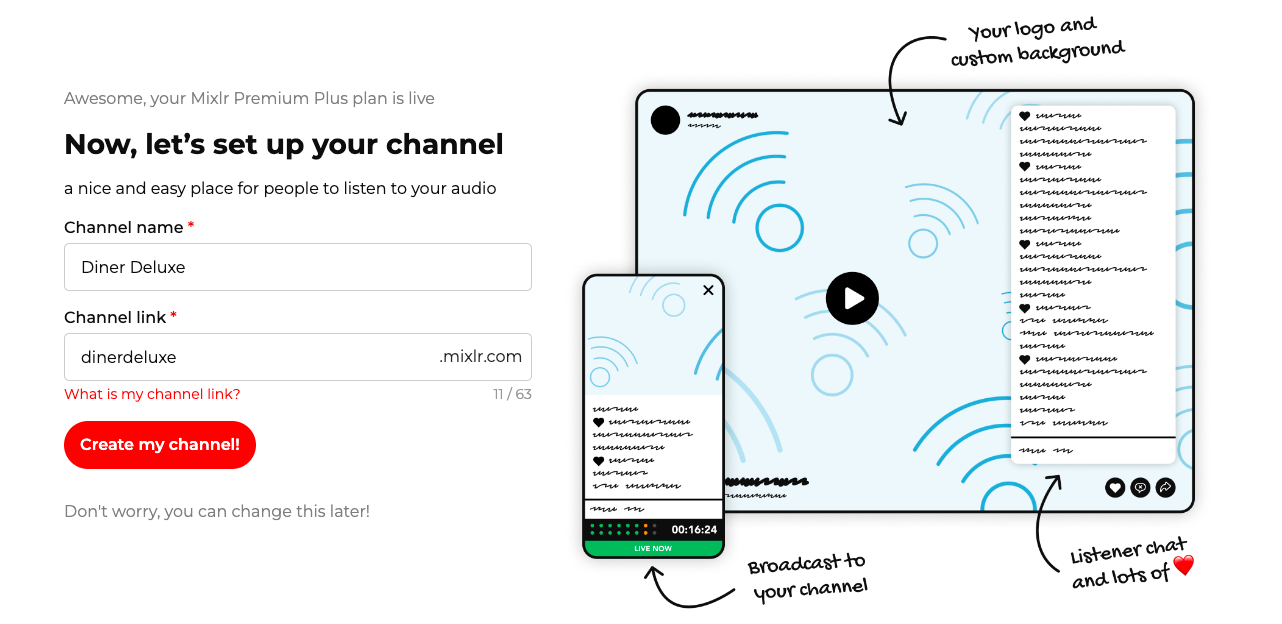 To make your channel recognizable to listeners, you could use your current username as your channel name. For example, let's say my username is Diner Deluxe. I'll use this for my channel's name. As for my channel link:
Before – if my Mixlr livepage link is: mixlr.com/dinerdeluxe
After – my channel link could become dinerdeluxe.mixlr.com
Your old livepage automatically redirects to your new channel. People will still be able to listen live as you settle into your audio's new home.
If you change your mind, you can always edit your channel's name and URL link later in your appearance settings. Don't worry. Any link to your old livepage automatically redirects to your new channel. People will still be able to listen live as you settle into your audio's new home.
TIP: Check out our FAQs for what else remains unaffected by the switch on November 28, such as the Live Player embedded on your website.
2. Customize your channel using audio events
From live audio and recordings to upcoming audio events, your audio is what makes your channel come to life. A live event will always take center stage on your channel. If you aren't live, then either a recently published recording or an upcoming audio event takes over as your channel's hero image. Unlike the livepage, your audio is always front and center with Channels.
TIP: Add artwork (i.e. images) to your live and scheduled events to really bring your channel to life.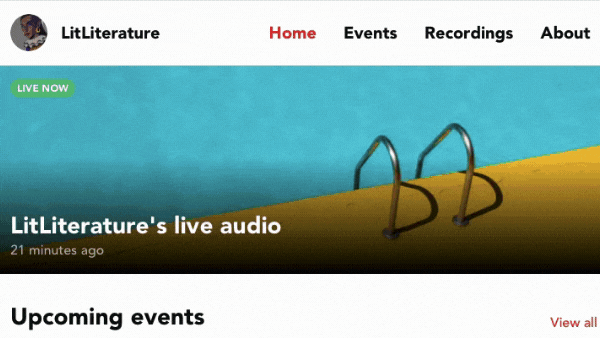 If you own a sports channel, you might want to use photos or illustrations related to a specific match and the teams involved. For online radio stations, event posters help listeners determine when one radio program ends and another begins. If you are broadcasting one music genre 24/7, you might choose to keep it simple with a single image as the event artwork. It's very much up to you!
There are a number of ways to upload images:
Pre-event, when starting a new event or scheduling in advance
While live on-air
TIP: If you'd prefer not to upload an event image each time, be sure to add channel artwork to your appearance settings since this image becomes your default event image.
Remember, your channel comes to life with your audio. The more you publish your recordings, the more you plan ahead by scheduling events, the more you broadcast, then the more your audience will associate your channel with you and your audio.
3. Maintain an open dialogue with listeners
We recommend giving your listeners a heads up before the official switch from livepage to Channels takes place.
Depending on how interactive you are with your listeners, you could inform them at your next live event or give them a heads up using your social media, as in the case of Darlo Fans Radio.
We'd love to hear what they think too.
4. Share feedback with us
We love them. Really! Your feedback helped create Channels. We listened and built a brand-new, code-free website that you can customize using your audio. Early Channels adopters also continued to have their say from layout preference to requesting emoji pickers 😸 and more.
We are continuously working away on Channels, so please continue to let us know your and your listeners' thoughts. Get in touch via the Help button in your Creators app or though this link and we'll be sure to get back to you.