We are thrilled to introduce Advanced Stats for Recordings, a powerful new feature (currently in beta) that provides you with valuable insights into your listeners' engagement with your recordings. This means you can now measure your recordings' success and engage your audience better.
The latest addition to the stats dashboard lets you analyze how many people listened to your recordings as well as the number of plays per recording. It is the ideal pairing to stats for your live events, where you can see how many people listened, how long for and where they tuned in from.
Now that you can access detailed statistics for individual recordings and your overall channel's live events, you'll gain an in-depth understanding of your content's performance from live to recorded. It's time to take your audio creator game to the next level.
Advanced stats for both live events and recordings are available on the Pro plan. Recordings listening data is currently a beta feature, with additional analytics coming soon! Read on for more: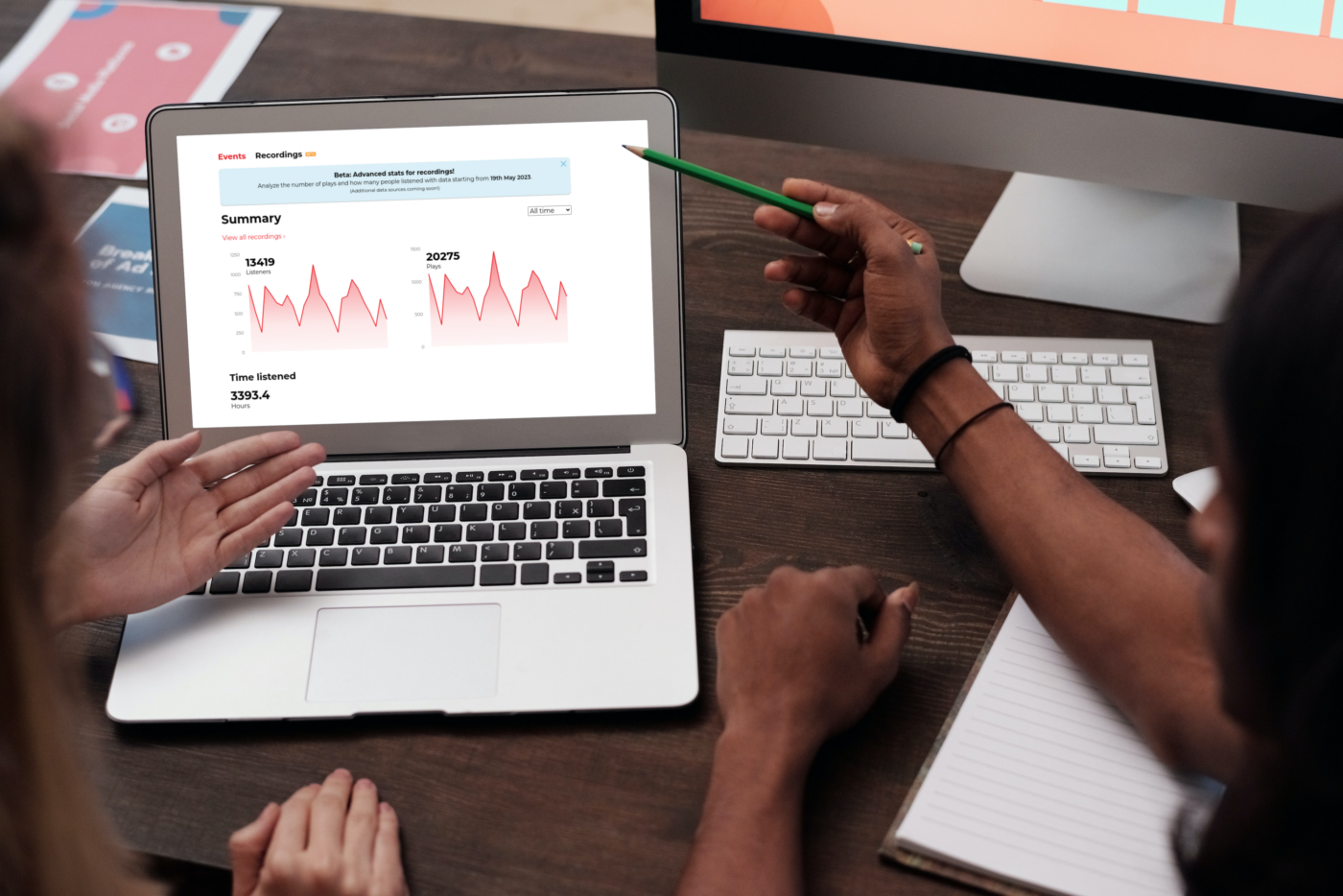 What's new?
Analyze listening data for uploaded recordings
Over a set time period, find out:

how many people listened to a recording
how many plays per recording
overall time spent listening to your collection of recordings
Getting started
Visit your stats dashboard and click Recordings
You'll see a summary page giving an overview of data from recent recordings
Select 'View all recordings' to dive deeper into listener data per recording
Find out more in this help article
Please note: This feature is currently in beta and only displays data starting from 19 May 2023. Additional data sources will also be featured soon.
What's next?
Further listener statistics will soon be displayed! This includes:
Recordings are as valuable as your live audio events. We want to make sure we're giving you a full suite of tools and services that caters to both sets of content. This is just one of many Recordings updates being rolled out over the coming months — we're so excited to share more with you.
Interested in going Pro?
Try it for free now!
Questions about listener statistics? Visit our help center or contact us directly — we'd love to help!